The iPad's compact size and portability make it the perfect tool for the quilter. A number of very useful applications have been designed specifically for quilting. Many of these apps can also be used on iPhones, androids and smart phones, but the iPad's larger screen is easier to read. Go to the App Store on your iPad if you wish to purchase these applications.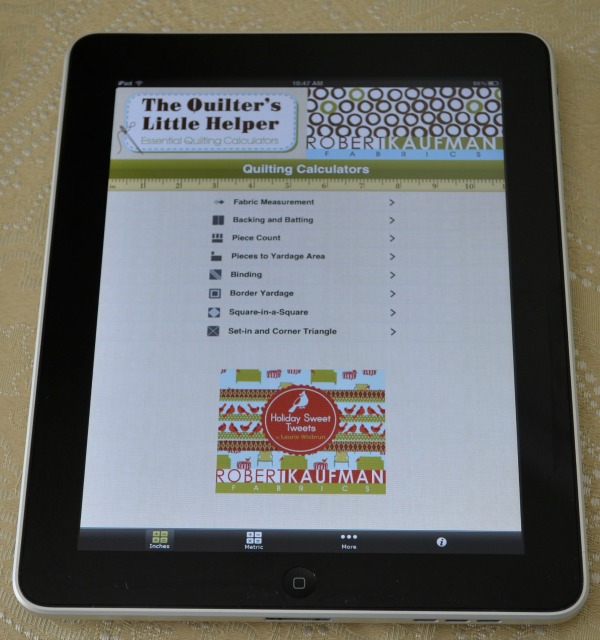 QUILT CALC – The Quilter's Little Helper by Robert Kaufman Fabrics
Quilt Calc is a very handy quilting calculator. It helps calculate how much backing and batting you will need for a quilt top, piece count and pieces to yardage area to help you make the best use of your yardage, how much binding you will need to make, and calculating border yardage. It will also help calculate set-ins and corner triangles for custom border work. It provides measurements in inches, as well as making metric conversions.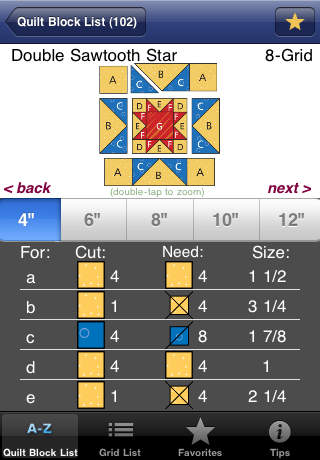 QUICK AND EASY QUILT BLOCK TOOL
This app provides 102 rotary cut quilt blocks in five different sizes. Each block has accompanying design details and construction diagrams, as well as easy to follow rotary-cutting charts. There are also helpful reference tables, including  yardage requirements. A very handy, easy to use, no-math tool for every quilter.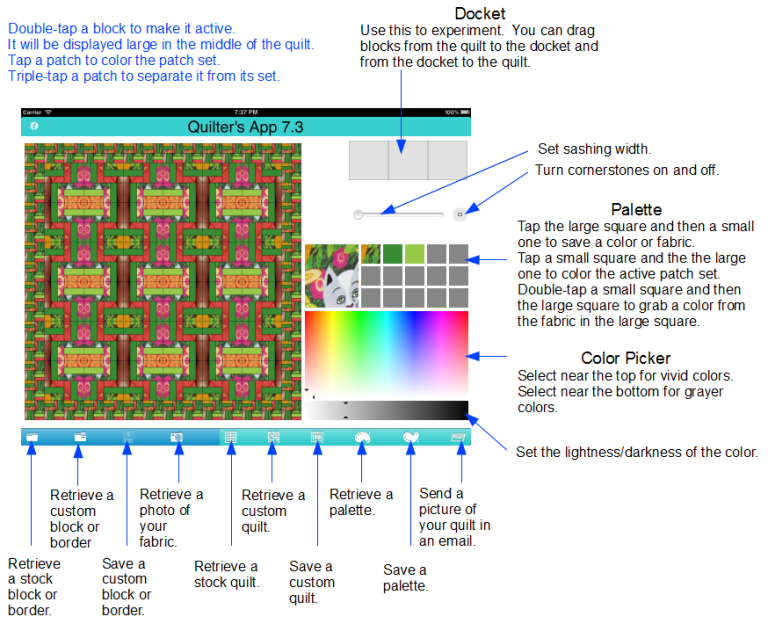 QUILTER'S APP
This quilt design application allows you to audition any color, or any fabric, in virtual blocks, borders and quilts of your design. Experiment with color combinations, and try blocks in straight settings or on point. You can save your design and take it with you to the quilt store to shop for fabrics. You are able to photograph and save images of fabrics, which can then be imported into your quilt design, to quickly determine how the fabrics will look in the completed quilt.
You can photograph the fabrics in your stash and save them to the fabric library so you can audition them in a quilt design. If you are out shopping, you can easily pull up photos of fabrics you already own, to find the perfect coordinating fabrics.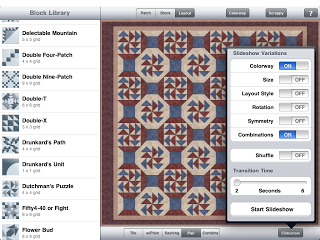 BlockFab – HD and QuiltFab
BlockFab is a free fabric calculator utility application. It is not a quilt design app. However, it will let you quickly see the results of various design, color, and layout possibilities. If you have a pattern you like but you want to customize it by changing the size or number of blocks, or by adding a pieced border, BlockFab will calculate the fabric required.
Choose from a small library of  50 grid-based blocks, or from a library of common patch shapes. Then choose the number and size of blocks or patches. BlockFab will determine the amount of fabric you need to buy, and will give you hints on cutting  the blocks or patches, based on the cutting assumptions used for calculating the fabric needed. Both English and metric units of measure are supported.
QuiltFab is a related free fabric calculator utility for determining the yardage needed for the quilt backing, binding, and for up to three borders. Type in the size of your quilt top and the calculator will do all the necessary math for finishing your quilt.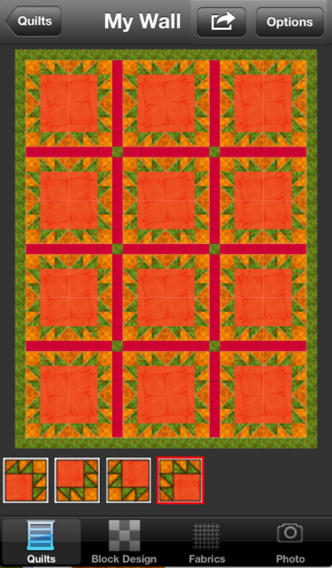 Quilting Wizard
Quilting Wizard allows you to test fabrics for your project while you are browsing at the quilt shop or at a quilt show.  A unique feature is the ability to photograph fabrics using the iPad (or iPhone) and immediately apply them to a quilt design that you have created and stored in the app. You can also store the fabric photos in your custom fabric  library for use at a later time.
To design a quilt, you select the fabrics for your quilt in the fabrics palette, and then select blocks from the block library. Fill the blocks with fabric. Place the blocks in the quilt grid. You can go back to the block design to adjust the fabrics until you are happy with the placement, and then you can see the finished quilt in the quilt view. You can be sure the fabrics you are purchasing will look great together in your finished quilt.
Quilt design software and quilting calculators do a good job of determining how much fabric you should buy for your project, but it is always best to round up to the nearest quarter yard to make sure that you can finish the project without running out of fabric.
Until next time,
Joan