With the help of my friend Elizabeth, whom I met through a virtual online bee about four years ago, we have formed a new quilt exchange group on Flickr called "Friends with Additions." There are 14 members of the group, who live in Australia, the U.S., Canada, England, Switzerland and Germany. The 14 of us have become friends while sewing together over the last several years.
Each member of the group will make a starter block of any size, which will be passed from person to person, until everyone in the group has made an addition to the growing quilt. The additions will be made very organically, with the addition of a single block, a group of blocks, or perhaps a border. It will be up to the group to decide how each quilt will grow. I am very excited about this project. This is my starter block which I have mailed to Juliana in Australia for the first addition.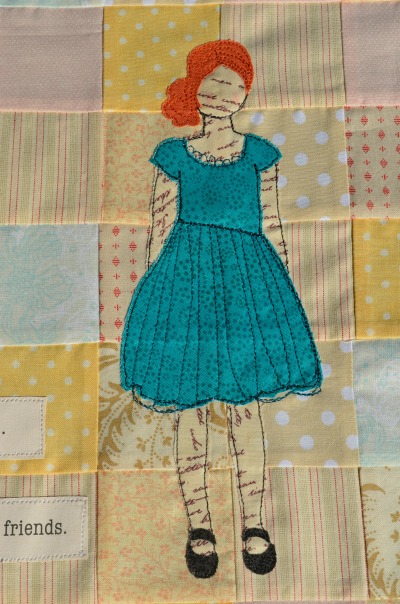 This block was inspired by the work of art quilter, Carrie Payne, who lives in Anchorage, Alaska. Carrie's website is Believe Magic and it is well worth a visit. Carrie creates a variety of "Art Girl" quilts and posts a photo of a new quilt in her online journal every day. She is amazingly creative and is a very productive artist. Most of her quilts are approximately 8 – 10 inches wide and 16 – 20 inches tall. Many of her Art Girls have features drawn on their faces, but she also likes to use text fabric for the face and limbs, allowing the viewer to use their imagination about the girl's features.
I have sent my "Art Girl" off to visit my friends and I am very interested to see what they will do and how the quilt will evolve. If you would like to see some of the other "starter" blocks, you can visit the group photo stream, Friends with Additions, and watch while our quilts grow.
Until next time,
Joan