Today started out bright and beautiful, then clouded up and acted like it was going to rain…but no such luck! We have gone an unusually long time without rain here in the San Francisco Bay Area, and are hoping for a storm. Unfortunately, it may come later this week when I am driving across the Sierras to be with my mom for her surgery later this week.
It was, however, a great day for a stroll with my daughters at the Point Isabelle Dog Park,  north of the Berkeley Marina (San Francisco in the background) with our English Lab, Cleo, and our Great Pyrenees Mountain Dog, Ramsey.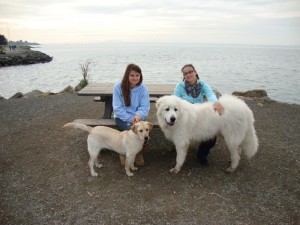 This is a short post, but I am striving to achieve my goal of posting a message every day this month for the NaBloPoMo challenge!
Until tomorrow,
Joan