I have published an article on Answers.com about using discarded men's neckties for quilt-making. You can read the tips in the article, which I have linked at the bottom of this post.
This subject first came to mind a couple of years ago when a friend of mine gave me a huge box of beautiful silk neckties. Her husband, a physician who wore a lovely tie to work every day, had died and she couldn't bring herself to throw them away. I have taken the ties apart, sorted them, and cleaned them. What now?
I have been considering two patterns for this project (which I will return to my friend as a loving memory of her husband). The first is the classic pieced "Bow Tie" pattern. Necktie fabric would translate well, and the solid background fabric would make the tie fabric pop.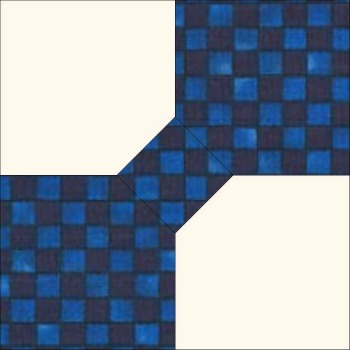 The templates for a 6 inch Bow Tie block can be found here: BowTiePDF. You can easily increase the size of the block by taking it to the copy shop and increasing the size of the templates.
The second block is a very easy foundation-pieced block called "Starched Shirt."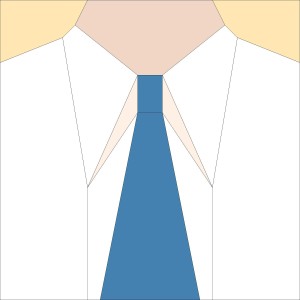 It would be fun to make 12 to 16 of these blocks and use Oxford cotton or other men's shirting fabric for the shirt, and a variety of beautiful silk ties.  This pattern is for a 12 inch block and it will print out on four pages. Tape the pages together, using the registration lines in the margins, and cut out the foundation pieces.
(3/1/2015: UPDATE. The digital paper-piecing pattern I originally posted had an error that I have been unable to correct. I am posting a new link for templates for the same 12 inch block. I apologize for the failed original link! Happy piecing.) The new link is here: StarchedShirtPDF.
I have noticed a number of unique ideas for quilts using men's ties on Pinterest.  This "Tie Burst" quilt from QuiltingBoard.com is terrific because the entire top surface of the tie is used without the need for piecing.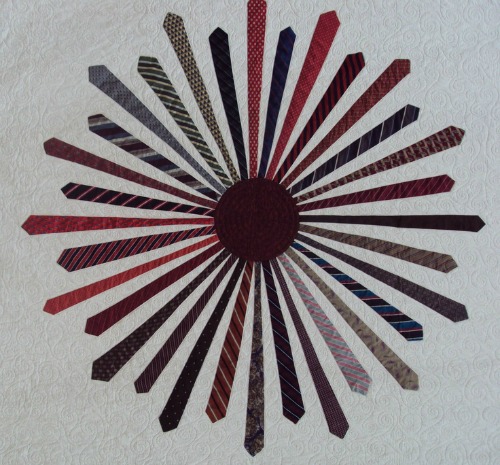 This quilt, which was inspired by the book "Daddy's Ties," by Shirley Botsford, was made and pinned by blogger, Shout4Joy. The pointed angles at the end of the ties are a perfect fit for the blades of a Dresden Plate block.
This quilt, based on the Storm at Sea pattern, was made by the pinner in memory of her father. It was posted by Thimblebug6000 at Quilting Board.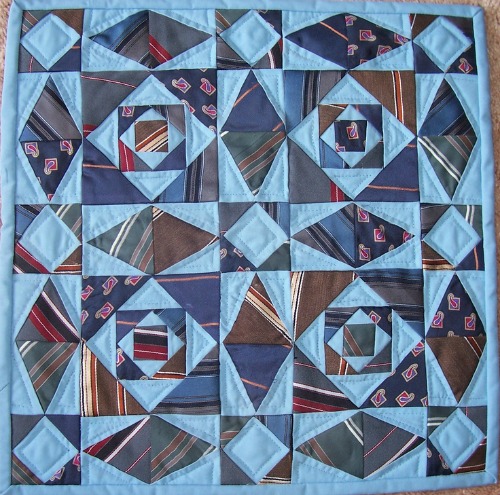 Men's neckties can be used effectively in a variety of quilt patterns. They are generally busy prints with strong directional patterns so they need lots of solids around them to calm things down visually.  Visit a closet near you, or take a trip to the thrift store, and try your hand at making a unique quilt using men's neckties!
Here is the link to the article: Tips for Making Quilts Using Men's Neckties.
Until next time,
Joan