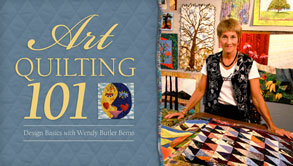 If you have never taken a class at Craftsy.com, today you have the opportunity to sign up to take a free class to try it out! Set up a free account, choose the class you want to take, and it is downloaded into your private classroom. You can take the class whenever it is convenient. You can stop and start the instruction videos as many times as you want. And best of all, the class stays in your class list indefinitely. If eight months from now you have forgotten a certain step in a project, open the class and watch it again.
I have taken several classes at Craftsy and they are wonderful. Excellent photography, clear instructions, and easy to print class materials make these classes a joy to participate in. Today you can learn to bake the perfect croissant, learn metal-smithing, knit the perfect cable stitch, design and sew an A-line skirt, or learn some art quilt techniques. There are 19 classes to choose from, so you are sure to find one that interests you. And you can't beat free!
So click on over and check it out!
Until next time,
Joan