Thanks so much for visiting my blog today! Many of you may be visiting as part of the "It's for the Birds" Blog Hop, organized by Madame Samm at Sew We Quilt, and our cheerleader, Mary at I Piece 2. Big thanks to both of them for their time and effort.
The theme for this hop, as the title suggests, is birds. I loved working with this theme. My project is a raw edge applique of the California State bird, the Quail. I love these sweet little birds. They nest and spend most of their time on the ground. We have a covey of them living at the top of the hill in our backyard. The babies scurry after their mother in a nice straight row, while the father sits on top of the fence, watching for predators. They are adorable.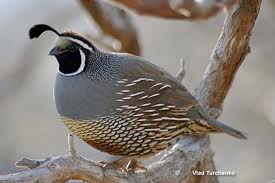 This is my "Quail" block.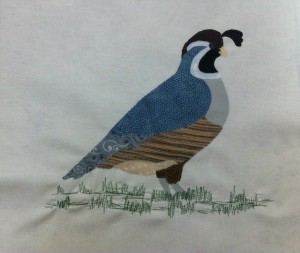 I am working on a quilt featuring birds, so I will be using this block in that quilt. If you would like to make your own quail block, you can download my applique drawing here – Quail PDF.
This is a paper-pieced block of a woodpecker that I made a couple of weeks ago.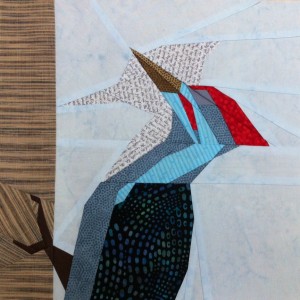 And, where there are birds, there are feathers….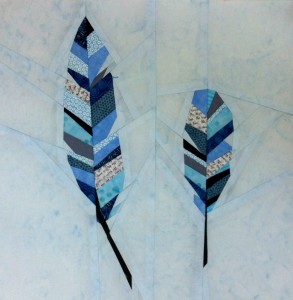 If you would like to make these blocks, the woodpecker pattern can be found here, and the feather pattern can be found here. I love to paper-piece and I really enjoyed making these blocks.
I hope you will consider following my blog. I try to offer helpful advice and links to interesting things. Those of you who become new followers have the chance to win this: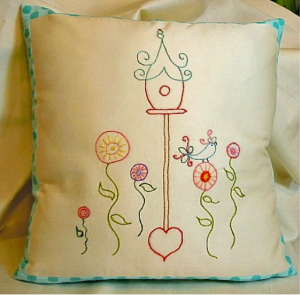 It is my embroidery pattern "Aviary." It offers complete instructions for making the pillow, including how to sew in a zipper.
Be sure to visit the other fabulous blogs in this hop:
Tuesday, May 7
Wednesday, May 8
Thursday, May 9
Friday, May 10
Monday, May 13
Tuesday, May 14
Wednesday, May 15
Until next time,
Joan