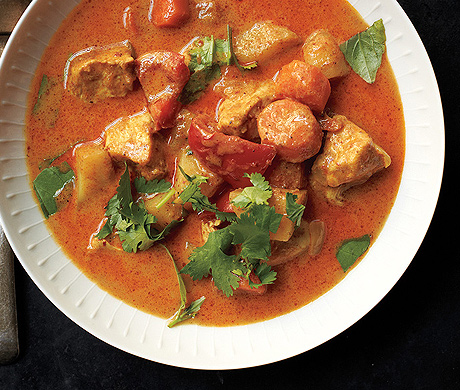 Thai Chicken Curry – www.epicurious.com
In January I am usually in the mood to start anew. I look for new quilting projects, explore new design ideas, and look for new recipes to try out on my unsuspecting family. Aside from Pinterest boards, one of my favorite sources for new recipes is the Epicurious website. They are partnered with Conde Nast publications, so many of their recipes come from Bon Appetit and Gourmet magazines.
Epicurious has launched a fabulous new recipe box app on their website called the Recipe Clipper. You simply drag their Recipe Clipper button into your browser bar and start browsing the web for recipes you want to try. Whether you are on the Epicurious site, browsing Pinterest boards, or find a blog with a great recipe, you simply click the Recipe Clipper button and, voila, the recipe is saved to your personal recipe box on Epicurious. No longer do I have to drag my laptop to the printer and print out a recipe to save it. This is such a great tool! You are able to customize your recipe box to save the recipes in a way that makes sense to you. You can also generate shopping lists from your recipes on this site.
Each day, Epicurious features a special Recipe of the Day, and today's Thai Chicken Curry looks like a winner for dinner tonight! So click on over to www.epicurious.com and check it out.
Until next time,
Joan