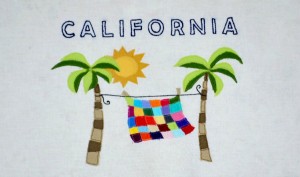 One more week to go on the American Made Brand blog tour.
I hope you have been following along and enjoying your virtual visit to the 50 States. The period for my give-away is closed and I would like to announce the winners! I used the Random Number Generator tool at random.org to help me randomly select the numbers associated with your comments.
The winners are:
#32 – Sarah Martin – Winner of the fat quarter stack and "Modern Jane"
#87 – Lou (louster 388)- Winner of 50 squares of AMB solids and "Playful Petals"
#101 Kelly Wilson – Winner of 50 squares of AMB solids and "Playful Petals"
I will be sending each of you an email shortly to get your mailing addresses so I can mail your gifts on Monday.
I want to thank those of you who are following my blog. It is a real honor to have you here, and I truly appreciate your time. For my new followers, welcome, and I hope you will find information that interests you in my posts. If there is a subject you would like to learn more about, or you would like to suggest a post, please ask!  If you are a blogger and would like to write a guest post, that would be great, too. Just contact me.
Be sure to visit the states still remaining on the tour for more chances to win!
Until next time,
Joan