I joined an Add-a-Border Swap this week. I have been watching the group on Flickr and have been amazed by some of the blocks being made, so I decided to jump in and give it a try. Unlike other swaps and bees, there are no time constraints or expectations about participation. You do what you want, when you want, so it is very flexible. The concept for the swap is to send in a six-inch starter block which is then sent to someone else in the group. That person adds a six-inch border to the block, making it 12 inches. The block is sent on to the next person who adds another six-inch border, making it 18 inches. It is sent to the last person in the round, who adds an additional six inches, making it a 24 inch block. At that point, anyone who has completed a round can ask to keep the block. You rarely get your own block back. Some of the blocks grow into an entire quilt.
This is my six-inch starter. Everyone is asked to name their blocks, so mine is "Block Solid."
I am looking forward to seeing what the group does with this. This is the block I received. I will need to come up with a six-inch border for it.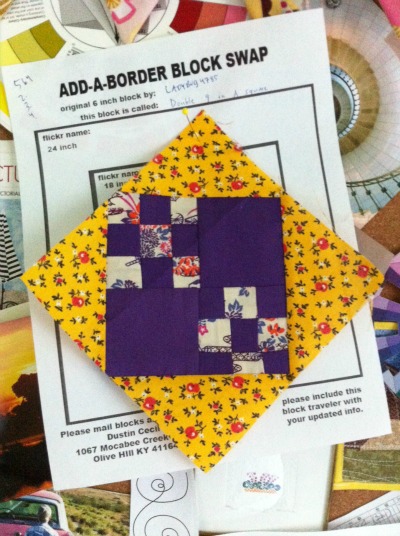 I have already decided I like it on point, so now I am off to find some coordinating fabrics and start brainstorming a border!
Until next time,
Joan