I am home from the International Quilt Festival in Houston and recovering from an overwhelming/exhilarating trip. If you have never had the pleasure of attending this annual event, put it on your bucket list!
First, the overwhelming part: the venue.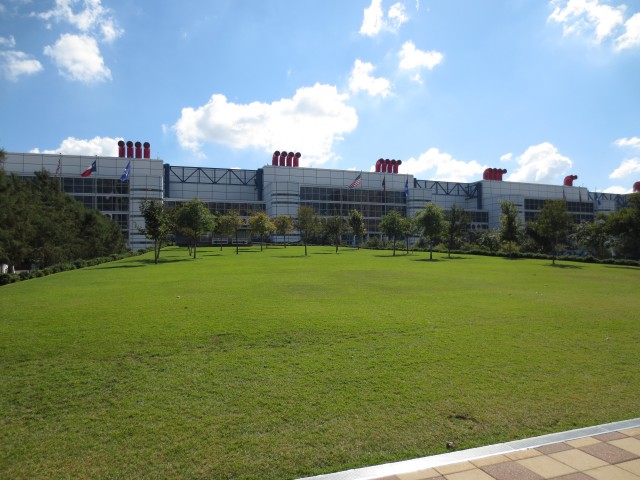 Everything is big in Texas and this is not an exception. The George R. Brown Convention Center is four blocks long, two blocks wide and three stories high. The building is divided into three areas for the show: the quilt show, the vendor booths and the food court. The food court was serviced by food truck companies serving a wide variety of food, including some wonderful cupcakes.  This is a photo of one-third of the vendor area. I couldn't get the entire floor from the little window on the second floor. I took the photo through a Plexiglas bubble window so it is a little distorted. This was before the show opened, so there is a conspicuous lack of people.
Once the doors opened, it didn't take long for the aisles to fill up. This was early on preview night, so there is actually room to walk. It was quite another situation during Thursday and Friday.
I will write more about the vendor area later this week. Now let's turn to the main event: the quilts! Unfortunately, photography of the special international exhibits and some of the U.S. entries was prohibited. Photos of those entries will be appearing in magazines and marketing materials, so those images are copyrighted. The good news is there were lots of quilts that I could photograph and share with you.
These were the three top prize-winning quilts of the juried show: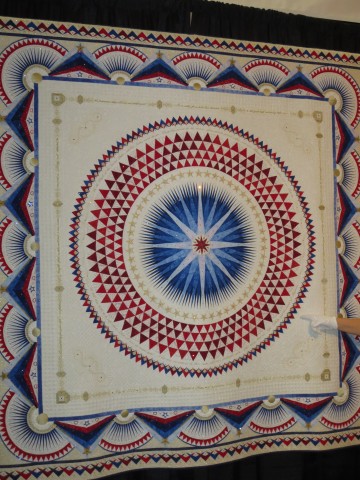 This is "America, Let it Shine" by Sherry Reynolds of Laramie, Wyoming. It won Best of Show and a $10,000 prize. This quilt is perfectly pieced. The quilting was tiny and precise. It is also embellished with hundreds of red and blue Swarovski crystals which makes the quilt shimmer. I noticed that many of this year's quilts had crystal embellishments and, personally, I don't think they added much to many of the quilts but this was the exception. They enhanced this quilt instead of detracting from it.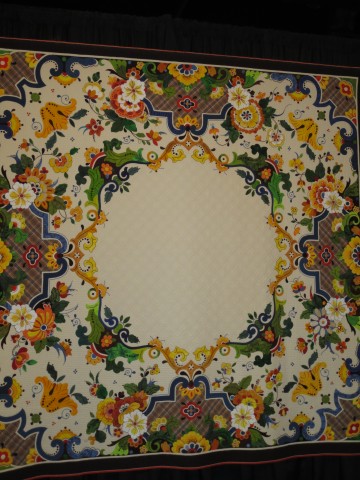 This is "ElaTED" by Ted Storm of S-Gravenzande, The Netherlands. It won The Founder's Award and a $7,500 prize. This quilt is hand appliqued and hand quilted and is absolutely stunning. Many of the flowers are made with a trapunto technique and are detailed with hand-embroidery.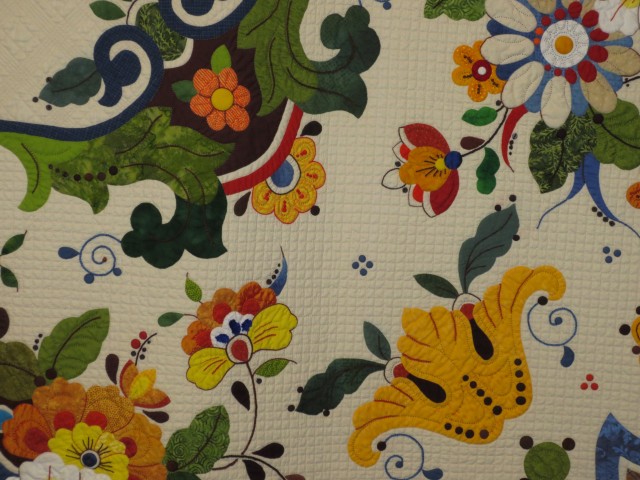 It would have been hard to be a judge in this show because each of these quilts was just as exquisite as the next.
This quilt is called "Hot Africa" and was made by Janneke De Vries-Bodzinga of Kollumerzwaag, Friesland, The Netherlands, who is standing next to the quilt. This quilt won The World of Beauty Award and a $7,500 cash prize. It was inspired by a trip to Kenya. It is made with hand-dyed fabrics and silks.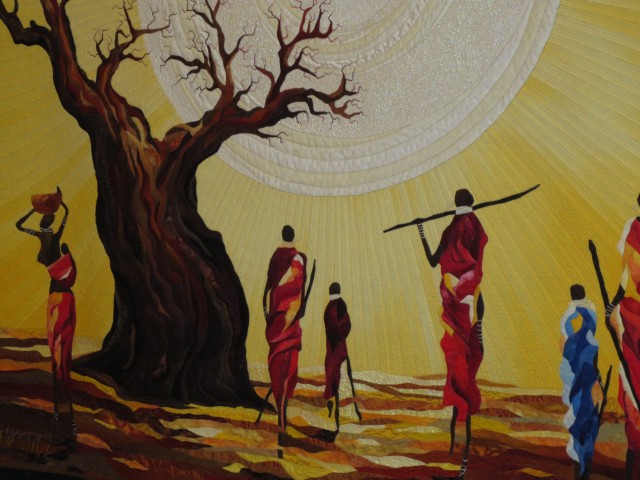 The beautiful use of silk in the sun makes this quilt glow, and the quilted sun's rays add to the illusion.
I am still learning how to resize photos and import them into this blog, which is quite different from Blogger, so I am stopping here for today. I hope you will come back and enjoy more photos of remarkable quilts.
Until next time,
Joan