I have had a steady stream of projects in my mailbox in the Quilt Around the World Bee over the last couple of weeks, so over the next couple of days I will share photos of my contributions to those projects.This block is for Tanya (of Manchester, England) who asked for a 14″ star block using bright colors. The pattern is called "Star Builder" and was designed by Judy Martin. It has 16 inset seams, but went together easily. I love the twisted effect in the center.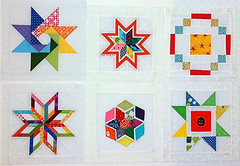 These are Tanya's blocks so far. This is going to be a very cheerful quilt.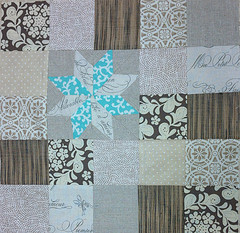 This block is for Ursi (Holzhausern, Switzerland) who asked for a 12″ block made from a variety of neutral fabrics and a tiny bit of teal for accent. This is going to be a very sophisticated quilt. It was very dark and cloudy when I took the photos and the group photos didn't turn out – this one isn't great either – so I can't share that with you.
Still learning the ropes here at Word Press, but it is getting easier! Thank you to those of you who have followed me here from blogger.
Until next time,
Joan