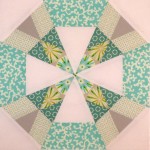 In the Quilt Around the World Bee, Amanda of Manchester, England asked us to make her a 12″ block using aqua and grey, with a little splash of color (gold in this case).
I chose this block, which is from the Lady's Art Company and dates back to the 1920's. The modern quilting fabrics certainly update it.
These are Amanda's blocks so far: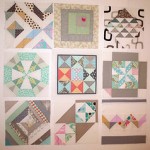 I love the grey and aqua color combo and the blocks are all so distinctively different. This is sure to be a very pretty quilt!
Until next time,
Joan